Thirty-nine persons, including five of the SPS's 18 founding members, participated in this specially planned trip to celebrate the SPS's 50th anniversary. The five founders were present Friday evening at the BLM Tuttle Creek Campground above Lone Pine, while four of them were on hand Saturday at Horseshoe Meadow to climb or hike. Both nights featured extended happy hours and tales of the section's evolution.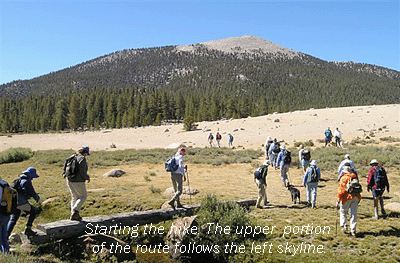 Miles and Maureen Brubacher made the longest drive, having come all the way from their summer residence in Canmore, Alberta, Canada. A founding member, Miles chaired the first Mountaineering Committee and served as SPS chairman in 1962. He and Maureen winter in Shell Beach on the California coast and, therefore, didn't have to drive all of the way back to Alberta after the trip.
Others with long drives included Mary Sue Miller of Tucson, Ariz., SPS chair in 1986; Frank and Joanna Bressel of Shaver Lake; Rich Gnagy of Sacramento; and June Hakala of Reno, Nev. Frank Bressel is a founding member, and both he and Joanna hiked in the early 1950s with the "outlaws" who soon would form the SPS. Gnagy and Hakala both joined the SPS in 1956, and her name (then June Kilbourne) appears frequently in trip reports of the pre-days of the SPS.
Founding member John Wedberg of Bishop was present for Friday night's campfire at Tuttle Creek. Founding members Izzy Lieberman of Los Angeles and Barbara Lilley of Simi Valley also were on hand Friday night and climbed Saturday. Lilley served as Gordon MacLeod's co-leader, and the two continued their leader responsibilities through Sunday. Dave and Barbara Sholle also joined in Friday night's festivities; Dave's having completed several video interviews while in Mammoth Lakes and Lone Pine earlier in the day. Barbara served as SPS chair in 1994 and is the current coeditor of The Sierra Echo.
Besides hiking and camping, the weekend focused on the history of the Horseshoe Meadow area. Founding member John W. Robinson had retrieved vintage trip reports showing how different this year's outing was in contrast to those of the 1950s. In 1956, for example, Frank Sanborn and Ted Maier led a scheduled SPS trip to Trail Peak that started nearly nine miles below Horseshoe Meadow, which now is reached by a two-lane paved highway. In those days, the peak was on the SPS qualifying list.
The group also learned that the Horseshoe Meadow Road once was conceived as a trans-Sierra highway with a ski development on the slopes of Trail Peak. From where Sanborn and Maier's 1956 trip started at el. 7280 feet, the road gradually was built higher on the terrain leading down from Wonoga Peak. One extension was finished in 1967, but then the Forest Service had second thoughts about the impact of a ski resort. In the 1980s, the road was built farther upward and completely paved. New backpacker camping facilities and equestrian grounds eventually were added, the pack station was moved to a more suitable location and the trails were rerouted to start from the walk-in campgrounds. While all of this was occurring, Horseshoe Meadow became part of the Golden Trout Wilderness, putting an end to further road extensions and a commercial ski area.
After the Friday night festivities at Tuttle Creek, 36 persons drove up to the walk-in campground (el. 10,000') overlooking Horseshoe Meadow. From there, Erik Siering, SPS chair in 2001 & 2002, and Larry Hoak set off for Cottonwood Pass, while the main party followed MacLeod and Lilley to Trail Pass on the Sierra crest. Eighteen climbers—the oldest being 84 years of age—signed in at Trail Peak, while 11 others—including an 85-year-old—settled for the views from Trail Pass (10,500') or slightly higher. By 4:30 p.m., everyone was back in camp, where seven others had enjoyed a leisurely day.
Saturday night's campfire burned until nearly 10 p.m., and more tales of personal experiences in the Sierra were exchanged. Then, the campers settled in for a subfreezing night made comfortable by an absence of wind.
After arising somewhat late Sunday, the group began disbursing with some heading for Lone Pine cafes. List finishers Gnagy and Ret Moore, plus Dick Agnos and Delores Holladay, joined MacLeod and Lilley for a shot at Wonoga Peak, but an unfavorable starting point consumed too much time and they, too, headed homeward.
Besides those mentioned, participants included Pat & Frank Arredondo, Ken Chotiner, Edna Erspamer, Bruno & Ingeborg Geiger, Bill Gray & Keats Hayden, Joanne Griego, Eugenia Hathaway, Laura Joseph, Jerry & Nancy Keating, Ann Kramer, Maria Marvosh, Dick Miller, William Meyer & Nancy Meyer-Thurnall, Nancy Parker, Ping Pfeffer and Lucy Woodward, the latter of whom recalls hiking with Sanborn and other "outlaws" before the SPS's formation.
All in all, the weekend was viewed as a pleasant start to the 50th anniversary celebration, especially in light of the rare chance to meet so many folks who've been "doing it" in the Sierra for a half-century or more. And the leaders were thankful that the trip occurred when it did. Had the trip started a day earlier, the group would have endured a snowstorm at Horseshoe Meadow. Instead, the snow had melted and skies were sunny.
" Starting the hike...", Photograph provided by Jerry Keating.