In June of 1993, my wife Jo and I set off on one of our best trips ever. This is a belated reminiscence of that memorable summer.
Our first stop was Iceland, which—if you don't mind high prices—is a truly wondrous place. The reason for stopping there was because I had visited the country the summer before during an unsuccessful effort to climb its highest peak, Hvannadalshnukur, and I was so taken with the country that I wanted Jo to see it as well.
We arrived in Reykjavik at 7:30 a.m., June 21, and even prior to checking into our hotel, Jo and I enthusiastically signed up for morning tour of the capital city. By noon, however, we had morphed into jelly-legged, jet-lagged zombies, and it took all we had to stagger back to the Holt Hotel, where we collapsed in utter stupor. The next day, somewhat revived, we took "The Golden Circle Tour," including stops at Hveragerdi, a city filled with geothermally-heated greenhouses that supply the country with fresh fruits and vegetables year round; Keird, a lake set in a volcanic crater; Skalholt, site of an ancient bishopric; and Geysir, location of a natural phenomenon for which spouting hot springs the world over are named. After lunch, we continued on to Gullfoss (Gold Falls), arguably the finest waterfall in a country teeming with fine waterfalls, and, finally, to Thingvellir, located directly on the Mid-Atlantic Rift, a unique natural amphitheater in which the island nation's first National Assembly was convened way back in 930 AD.
The following morning we headed southwest out of Reykjavik along the Reykjanes Peninsula, bound for the Blue Lagoon, which, before it was "discovered" by the locals, was nothing more than a settling pond for the scalding hot waters brought up from a mile and a quarter below the surface by the adjacent geothermal electric plant. Today, sporting a modern bathhouse, the Blue Lagoon has become quite famous. Folks fly in from all over the world to soak in its mineral-rich, milky-blue waters, plastering themselves with the fine mineral sludge that deposits on the bottom of the pond. Depending on where you stand, the water temperature can range from tepid to hot. A layer of hot water may lie on the surface, for instance, while your feet are merely warm. Jo and I paddled around for about an hour, conversing with both Icelanders (most of whom spoke English) and mainland Europeans, enjoying ourselves immensely. After the swim, we lunched at the modern fishing village of Grurdavik, then visited the lava fields and bird cliffs at the tip of the peninsula, both of which were impressive.
On June 24, we were off on a small plane tour, first flying over Thingvellir, Geysir and Gullfoss, and then around glacier-covered Mt. Hekla, the infamous active volcano, whose ice cap melts during eruptions, thus causing deadly floods. We then landed at Heimaey, an island just off the south coast, home of Vestmannaeyjar, the most important fishing harbor in the country, a port that accounts for a full 15% of the country's gross national product. It was here that in February 1973 that an "inactive" volcano suddenly erupted, covering much of the island's only village with ash, and sending a massive, slow moving wall of lava toward the entrance to the harbor. Requisitioning several high-pressure pumps from the NATO base at Keflavik, the ingenious Icelanders began round-the-clock spraying of millions of gallons of ice cold
Burrigplatz, Highpoint of Luxembourg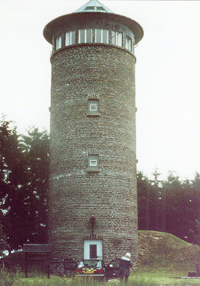 seawater on the advancing wall—and in a happy ending, the molten mass solidified, and the harbor was spared from certain destruction.
Before leaving Iceland, however, which we did the following morning, it should be noted that in good weather the country's 6,950'high point, Hvannadalshnukur, would make a nice climb. On our attempt the prior year, we had successfully conquered its rocky southern slope, crossed the crevasse field along the crater's rim, and were making our way across its ice-filled crater itself, a mere two miles from and only five or six hundred feet below the summit, when we were hit by a sudden storm. Although we waited three hours for the weather to break, we finally had to give it up and turn back. Since I plan to return to bag the peak, I'll write up the details of the climb at another time.
As compared to most major European gateway cities, arrival in Luxembourg is a quiet, laid-back affair. We zipped through immigration and customs, picked up our rental car with ease, and then drove 37 miles north to the town of Clervaux, set in a heavily-forested bend in a river, where we holed up for the night in a hotel room equipped with a Jacuzzi. The next morning, June 26, we continued on about as far north as possible in Luxembourg, making our first stop at Burrigplatz, where next to a brick tower with a conical roof, we found a wooden sign proclaiming, "Point Culminant Du Grand-Duche—558.35 M" (1,831'). And thus little Luxembourg—a mere nine-hundred and ninety-nine square miles in area, a third of which is forested, with a population of slightly less than four hundred thousand, most of whom speak Letzeburgesch, a dialect closely related to German—became the first of our three high points for the day. Although it had begun to rain, we were in exceedingly good spirits as we sallied forth north into Belgium.
Botrange, the 694 M (2,274') high point of Belgium, is located in that country's eastern extremes, very close to the German border. While it's possible to park off the main highway N68 (across the street from the Barque Michael café), about halfway between the towns of Malmedy and Eupen, and take a 4-kilometer hike through the countryside to the high point, Jo and I, because

Botrange, Highpoint of Belgium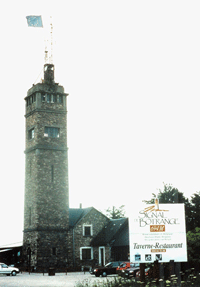 of the inclement weather, decided to drive there instead. Turning off N68 toward Robertville, we arrived at Botrange about 1 p.m., where we treated ourselves to coffee at the on-site cafe. Later, just outside the café, we discovered what we presumed to be the high point monument (others claim that the high point is under the tower adjoining the café). Wherever it is, we were, in our opinion, close enough. Highpoint #2 for the day! By the way, Botrange is situated at the edge of a 10,500-acre preserve, which, consisting primarily of a wet peat bog, is one of the few wilderness areas left in that part of Europe.
Heading north once more, we stopped about 2 p.m. at a small hotel outside of Eupen, where for a huge price in those days, Jo had a dish of celery soup, while I scarfed down the lunch special consisting of soup, fish, and a suitably rich Belgian dessert. Entering the Netherlands after lunch, we opted for a series of back roads to avoid the traffic created by the nearby industrial German city of Aachen. Coming at last to a sign reading "Drielandenpunt" just north of Vaals, we turned up a road leading to a large garden restaurant set amid a pine forest, where I pulled into a pay parking lot. We then strolled over to three small monuments indicating we were, indeed, at the Netherlands's 322 M (1,057') highpoint, Drielandenpunt. Three in one day, oh yeah! As a note of interest, this area is in the foothills of the Ardenne Mountains, where the Battle of the Bulge, one of the most important and vicious conflicts of WWII, occurred. Next to the highpoint is a tower which purportedly offers a fine view of the entire area, including the nearby point where the borders of Netherlands, Belgium and Germany meet. Jo and I attempted to climb the tower, but were turned back at the admission gate because we had only American currency (we'd used the last of our European currency earlier at a pay restroom). That was not the worst part, however. The worst part came when I tried to get out of the parking lot. It turns out that there was no attendant, only a coin payment box, and there I was with no change. I reparked the car and went into a nearby souvenir shop with the intent of changing a few dollars.

Drielandenpunt, Highpoint of the Netherlands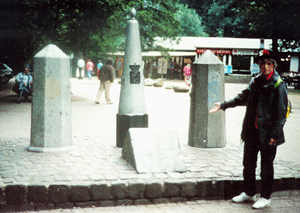 "Sorry, but we are not a cambio," one of the clerks curtly explained. Gnashing my teeth, tearing my shirt and beating my breast, I carefully explained that if we were damned to spend eternity in the parking lot I would hold her personally responsible. Another clerk, noticing my stylishly urbane demeanor, offered me a proper coin from her own purse, refusing my dollar bill in exchange. I could almost hear her thinking, "Dumb American."
With slightly bruised egos, we continued on to Maastrict, where we were unable to find a hotel with a decent bed (the one hotel with a vacancy had beds that were way too soft). Fortunately, a friendly front desk clerk advised us that we might consider traveling on to the small town of Thorn, where he thought good accommodations might still be available. And that was the best tip of the trip. Thorn, it turns out, is a quaint village in which all the 18th Century buildings have been painted white—something to do with the fact that it was once run by a governing body of women. Upon arriving there, we discovered that the only room available was the honeymoon suite at the La Ville Blanche Hotel, however the accommodating manager let us have for the standard price of a double. After freshening up, we repaired to hotel's dining room, where we enjoyed an excellent meal consisting of fresh salmon and just-picked white asparagus, both of which were covered in a marvelous home-made hollandaise sauce. And after dinner, we strolled way out into the surrounding countryside, where, even though it was past 10 p.m., the fields were still bathed in the golden glow of a northern European twilight.
The next day, we drove northeast through the summer-lush countryside of Holland's Lowlands into Germany, where we stopped for the night on outskirts of Hamburg.
The following morning, we continued north into the Jutland Peninsula, where in the early afternoon, near the town of Skanderborg, amid rolling fields and farms, we found Yding Skovhoj, an undeveloped site, continental Denmark's 173 m (568') high point (maybe). In a situation akin to that of Delaware, however, where a trailer park near Ebright Azimuth, the State's recognized high point, is actually higher but apparently man-made, there seems to be an argument regarding this claim. Indeed, a hill about a half mile away from Yding Skovhoj, the 170.95 M (560') Ejer Bavnehoj, on which a red-brick building sporting a large Danish flag stands, claims to be the legitimate natural highpoint. I don't know—visit them both. Another consideration is that Denmark also possesses Greenland, where, of course, there are real mountains. So where is the true country highpoint?
Since it's unlikely that I'll ever get to Greenland, I'm claiming Yding Skovhoj is the real thing, and I proudly display the country's handsome flag, a white cross on a red field, among my collection of high point banners.
Jo and I continued on the Copenhagen that afternoon, and the next day we embarked on a 10-day cruise on the Baltic Sea.