With various last-minute problems, we were down to a group of three with the hope that one more, Ed Cottone, could join us Friday night. He couldn't. So at 6:00 a.m. Friday morning, I ferried my co-leader, Nile Sorenson, the lone participant, Scott Sullivan, and our packs to the end of the road and went back to the hiker parking lot. I met up with them again at a break just beyond the fine log bridge crossing of the South Fork of Big Pine Creek.
What wonderful wildflowers we had! So many mariposa lilies, white lupine, various paintbrushes, gentians, pride of the mountain, pennyroyal, columbines, larkspur, rain orchids, and more.
We did pretty well beating the heat, but as we finished the switchbacks below Willow Lake, we hit the mosquitoes. Nile led us on to Finger Lake, which still had some icebergs in it at the outlet end by our camp. We arrived before 11:00, taking three g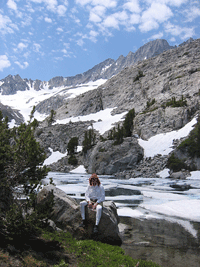 enerous breaks on our leisurely walk in. Two other people were camped at finger Lake; we saw them that afternoon after their climb of Middle Palisade and before they headed out to their steak reward.
I practically felt guilty just lying around camp most of the day, but I did revise some quizzes. I wasn't pleased to see snow in the gully up to the south notch of Disappointment, fearing it would not be safe for climbing. On the other hand, the snow to the east ridge of Balcony looked good from camp.
Saturday morning we left camp just before 5:00 a.m., Scott and Nile still having their headlamps on for a short time. We put on crampons because that was easier than kicking steps, though the snow wasn't hard. We steadily worked up and easily onto the Middle Palisade Glacier, then over the filled-in bergschrund to the right-hand tongue of snow up to the ridge. The angle was moderately steep, but the snow still good, except for the ice along the rock margins.
After a nice break where we topped out on the ridge, we traversed toward Balcony. I remembered a large cairn at the start of the traverse across the face of Balcony, but we found a normal size duck. Of course, my memory was probably shot since it had been thirteen years since I was there. To us it also seemed more than three hundred feet below the summit of Balcony. We went up snow and rock to the summit of Balcony and looked for the chute down to the southwest chute, thinking we might find something better than we'd seen already. I worked down several ledges but had the feeling that that route was just going to disappear. Back we went to that duck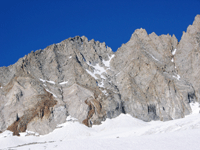 on the east ridge. After a break, we were ready to start the traverse, probably having lost two hours since we were there before.
Most of the traverse went well. We were able to go below some snow patches between the second and third ribs. Just beyond the third rib, when we got to the broad chute up to the notch between Balcony and Disappointment, we had snow to cross, about a dozen steps wide. Since Nile is the LTC snow chair, I turned over the lead to him for this. The snow, fortunately, was in good shape, and Nile made great steps for us. It was a bit awkward to get back on the rock, but not bad. We had a smaller but icier bit to cross a short distance later. Again, Nile helped us with this spot. The best luck was that we were able to stay right of the snow I didn't like the looks of from camp, getting all the way to the notch on rock. We ended up spending a fairly long time trying to find the best way to the summit. Coincidentally this was #225 for Scott and 2 x 225 for me. Nile didn't know what number it was for him—amazing! We came down along the ridge leading to the notch at first, which had one rather awkward open book spot for down climbing that Scott and I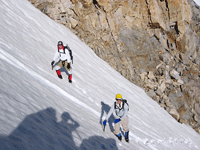 rappelled, the only time we used the rope I carried all day.
Nile led the way for the descent, going lower at times on the traverse than we went on the way up. Having decided to return via South Fork Pass to avoid the steep snow we climbed in the morning, Nile gave us excellent steps yet again going down the steep part of the pass. Then we started glissading. We had a number of fine glissades and made great time getting back to camp, which we reached late, just at dark at 9:00. Scott headed straight for his tent, leaving Nile and me to fend off the mosquitoes while we had dinner.
The luxury of getting up without an alarm to prompt us! How unusual on an SPS trip. Still, we were packed and on our way out just after 7:30, fleeing the mosquitoes. We met a group coming in with enormous packs, planning to fish. With several long breaks we were still back to the cars before 11:00 and soon on our way after a successful trip. We all very much "needed" Disappointment and were so thankful not to have been disappointed. We all claimed we would never go back. We'll see.
Photographs by Tina Bowman. Click on images to see enlarged photographs.